Latest creations from bonboh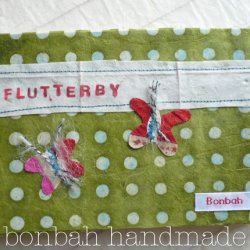 Joanne has been hard at work for the past few months. Not only has she been working hard as a freelance graphic designer, she's spent the last several months creating handmade gifts for practically everyone we know for Christmas. In fact, many of the people who read this blog probably received a bonbah handmade creation.
All those hours of hard work have paid off, she's finally made items inspired by those presents available on her bonbah shop on Etsy. There's a wide array of items, from jewelry to greeting cards to some fantastic stationery. One of my favourites is the flutterby notebook that she made for Letitia. Go on and have a look. She makes some pretty incredible stuff!